So earlier in the week I stumbled upon this awsome site neatly abbreviated
SITS
or The Secret is in the Sauce. On said website they support each other by visiting fellow bloggers and commenting if they have this button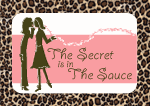 on their profile proudly displayed. Every day they have a featured blogger and for the past 6 weeks I guess they have been giving away prizes randomly. This week they are giving away this...
Apple 4G iPod Nano in Silver. Plays up to 1,000 songs, 4 hours of video or 3,500 pictures! Do I NEED it? Hell no! But I think it would be cool to have to transfer all these songs off of my computer to make more room for better things like pictures! :)
So, I did was I was obligated to do per the terms of the contest. Now let us wait and see if I randomly win! And good luck to all my other fellow SITStas!!!
TTFN,
Mama Roho